What does a girl do on her day off?  Sunny day…no work… no husband… no kids, the world is mine! You want to know what I did on my day off?  You really don't want to know, but I'll tell you anyway… I spent 5 hours at craft stores and another hour trying to hide all the stuff I bought from my husband (don't worry, I came clean). While I was going through aisle after aisle of houseware and craft supplies, I found some adorable polka dot plates on clearance!  I immediately starting trying to think of a way to use them and I dreamed up this adorable cupcake stand! The best part of it is that I was able to make this 3 tier stand for under $7 and it only took me a few minutes to put together.

What You Need:
2 Large Dinner Plates
1 Small Appetizer Plate
1 large and 1 small matching ceramic flower pot (If you don't find the right color, you could also use terracotta pots and paint them with regular acrylic paint)
Strong glue
Step 1

: Flip your pots over and put glue all over the bottom.  Let it sit for two minutes.
Step 2:

Place the bottom of the large pot on the bottom center of one large plate and the small pot on the bottom center of the small plate.  Press down and hold for a few seconds.  Let dry for a couple hours.
Step 3:

Stack the tiers on top and viola!
I planned to make a dozen cupcakes to test it out but unfortunately I'm on a bit of a sugar de-tox thing right now so I had to settle for this cute ceramic cupcake
I decided not to glue together the tiers so that I could stagger them if I wanted to and it's also easier to store!
Next time you find some super cute plates on sale, you gotta try this!
This craft has been features on these fabulous blogs: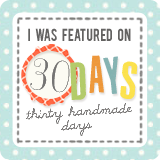 *Peace Love & Cupcakes*
Vanessa
Related posts: